A Weekend Itinerary for Santa Barbara, California
Santa Barbara is all about the good life: sun, sea, sand, wine, fresh food, gorgeous views…the list goes on and on. So if you have a weekend in Santa Barbara, how can you take advantage of all those good things? I'm here to help you put together the perfect weekend itinerary.
I've done many weekend getaways to Santa Barbara over the years, especially when I lived in San Diego. In fact, my husband and I love Santa Barbara so much we had our wedding there! I've done many different itineraries during my time in Santa Barbara and the one below is my favorite.
Where is Santa Barbara?
But first, let's make sure you're acquainted with exactly where Santa Barbara is. The city is located in Central California, about an hour and a half north of Los Angeles (though as Southern Californians know, that timeframe can differ wildly depending on traffic). From the Bay Area, it takes about four to five hours to drive.
One of the geographic things that makes Santa Barbara so special is that it's located in a coastal valley, providing stunning scenery no matter where you are in the city. Look one way and you'll see the sparkling blue of the ocean. Look in the other direction and you'll see the peaks of the Santa Ynez Mountains.
Santa Barbara also tends to have a climate more like Los Angeles than San Francisco, meaning lots of sunshine, not so much fog, and pleasant temps for enjoying the great outdoors.
Friday Night in Santa Barbara
If you are planning on arriving to Santa Barbara for the weekend on Friday night, try to leave work early enough to get there in time for the sunset on the beach. If driving to Santa Barbara, bring a picnic from home since you might be hungry after your drive. Enjoy it on the sand, then head back to relax at your hotel or head downtown for some drinks.
Great Places for a Drink in Santa Barbara

Deep Sea Tasting Room: Wine tasting right on the pier.

Mercury Lounge: Comfortable seating and live music.

Santa Barbara Wine Therapy: Lots of local wines and beers to try in a laidback setting with games and a patio.

The Bourbon Room: Prefer whiskey over wine? Head to this cozy bar.

Joe's Cafe: Known for having the strongest drinks in the city.
Saturday in Santa Barbara
Spend your first full day in Santa Barbara getting acquainted with its beauty, history, and modern day vibe.
Breakfast and shopping on State Street
After you get breakfast either at your hotel or in town, it's time to explore — with some action.
Rent a Bike to Explore Santa Barbara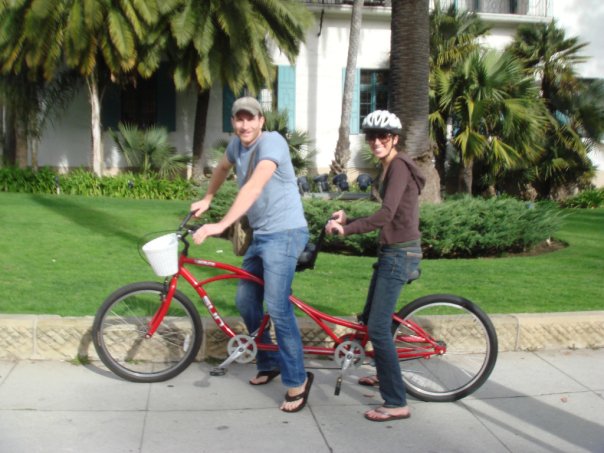 A quintessential and fun thing to do in Santa Barbara is to rent a beach cruiser bike and ride around town. You can take your bike right down the beach boardwalk to feel the sea wind in your hair. You can also ride it up and down State Street and along it's quiet and charming side streets.
Bike racks are located all over the city and outside many businesses along State Street. Your bike rental will probably include a bike lock, but ask for one if it doesn't.
A convenient bike shop to rent from is Wheel Fun Rentals located just a block off the southern end of State Street and a block north of Cabrillo Boulevard, making it a great place to start your journey whether you're heading down the coastline or up State Street. (Note the word "up" — you will encounter a hill! But then State Street and most of the streets flatten out for an easy bike ride.)
Where to stop during your Santa Barbara bike ride:
Stearns Wharf
Park your bike at the start of this lovely wooden pier and then walk down it for some great views of the Pacific.
If you have kids or enjoy aquariums yourself, now is a good time to go to the Santa Barbara Museum of Natural History Sea Life Center, located right on the wharf. (This might leave you with less time at the end of the day for the Urban Wine Trail though — although if you have kids in tow, you might not care about that so much!)
Moreton Bay Fig Tree
This incredible tree is the largest of its type in the U.S. Its base is a tangle of huge roots that are cool to look at and great for a photo op. The tree has a neat history, too. A visiting seafarer from Australia had a seed for the tree and gave it to a local girl. She planted it and it grew into the huge tree it is today. Moreton Bay Fig Tree is located a couple blocks west of State Street on W Montecito Street by the Amtrak Station .
Santa Barbara County Courthouse
This beautiful building is a great example of Spanish-Colonial architecture with murals inside and a clock tower you can climb to the top of for excellent views of Santa Barbara.
Old Mission Santa Barbara
At the top of State Street before it veers west, you'll find a peaceful park-like setting that is home to the Old Mission Santa Barbara. This Mission dates back to 1786 on the fourth of December, which marked the Feast of Saint Barbara. (You may be figuring out now where Santa Barbara gets its name.) It was the tenth mission to be founded by the Spanish Franciscans in California (they founded 21 in all the state). Mass is still conducted at the mission each week. In addition, there is a gift shop onsite, a museum with historic artifacts, and incredible views of the ocean.
Another Way to Get Around Santa Barbara

Biking not your thing? Then you're in luck. Santa Barbara has some great public transportation.

One of the really special things about Santa Barbara that a lot of people don't know is that it has a really good public transportation system that is cheap. Compared to L.A. where it is pretty near impossible to get around without a car, Santa Barbara is a welcome haven from gas-guzzlers. Santa Barbara has shuttles running up and down State Street and Cabrillo Blvd. until 6pm – and until 9pm on Fridays and Saturday from April – October. Best of all, shuttle tickets are only 25 cents.
The Funk Zone + Urban Wine Trail
After you drop off your bike, catch the shuttle or a cab to Anacapa Street, about a 15 minute walk from the intersection of Cabrillo Boulevard and State Street. The Urban Wine Trail is home to a number of tasting rooms serving reds and whites from the region, most open from 10am – 6pm, though hours can vary. My favorites are the airy Oreana and funky Municipal Winemakers.
Sunday in Santa Barbara
If you're a church-goer, start the day going to one of Santa Barbara's gorgeously built, historic churches — like the aforementioned Old Mission Santa Barbara!
For your second day in Santa Barbara, spend a portion of it at the beach, whether that means walking down the coastline or spreading a towel on the sand for some lounging — maybe mixed with some boogie boarding or swimming in the surf (just be aware of surf conditions before going in).
For the rest of your day, find a hike to do. If hiking isn't your thing, consider driving to one of the nearby wineries located within the vineyards of Santa Ynez Valley. Firestone and Foley's are two great options.
Monday in Santa Barbara
Planning to spend a long weekend in Santa Barbara? Take advantage of the extra day by doing a wine tasting tour, taking a surf lesson, or visiting one of the historic missions around Santa Barbara.
Where to Eat in Santa Barbara
Santa Barbara has an incredible culinary scene, with many restaurants featuring ingredients and a wine list from farms and wineries in Central California. You'll find lots of fresh ingredients and seafood entrees on the menu. I've had a couple of my favorite meals at these eateries:
Bouchon: This intimate restaurant is a splurge, but worth it if you love top-notch food and dining experiences. Bouchon uses almost all locally grown food and has an impressive wine list of the region's top vintages. Be sure to make a reservation before you leave for your weekend in Santa Barbara as this restaurant typically fills up fast.
Boathouse at Hendry's Beach: Bordering a thin, rocky area of Santa Barbara's beach, this restaurant is literally steps from the ocean and serves up amazing seafood. Be prepared to wait for the popular patio, though a table by the large windows inside if you're in a hurry can still give you a beachy ambiance as they open up, letting in the ocean breeze.
Enjoy Your Time in Santa Barbara!
Enjoy your time relaxing, exploring, and enjoying the good life of Santa Barbara!